Address | 164, Backbay Reclamation,H.T. Parekh Marg,Churchgate,Mumbai-400020, Maharashtra, India
Ranking | Jamnalal Bajaj Institute of Management Studies has been consistently ranked in the list of the top 10 business schools in India.  Economic Times has ranked it at No. 9 in India. The top notch companies line up here to attract talent.
Year of Establishment | 

1965

Approved By : AICTE & University of Mumbai (Bombay)
---
---
---
Introduction
JBIMS was established in 1965 by the University of Mumbai in collaboration with the Graduate School of Business,

Stanford University

.
JBIMS is considered to be unique in management education as it is firmly rooted in the local soil and capable of articulating the Indian ethos. In the contemporary era, when globalization and liberalization are the buzz words, the institute has (without disturbing the said roots) ordered itself to meet the emerging challenges, sentiments and opportunities that are coming with the new economic order.
Eligibility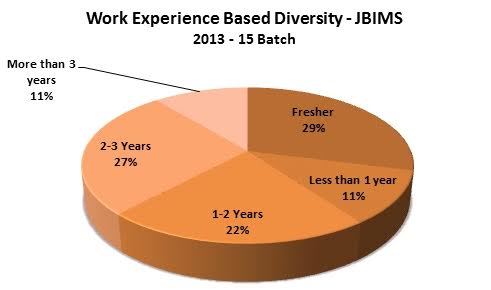 Jamnalal Bajaj Institute of Management Studies 
Cut Off

MMS Programme

MSc Finance

Masters in Marketing Management

Masters in Finance Management

Masters in Information Management

Masters in Human Resource Development Management

Doctoral Programme

MMS
---
Management Programes
MMS 
 

JBIMS select candidates for this course based on the entrance exam conducted by Maharashtra state (DTE) for MBA/MMS/PGDM courses.

Masters in Management Studies is the flagship course of Jamnalal Bajaj Institute of Management Studies, conducted as a university department of University of Mumbai. It is a two-year full-time post-graduate degree course in management with 120 students.
Started as early as 1965, the course has been modified continuously and appropriately to suit the contemporary corporate world needs and has been able to nurture prominent leaders of the same. The institute offers specialisations like Finance, Marketing, Personnel, Operations and Systems in the second year of the MMS course.
MSc Finance 
 

MSc (Masters of Science) in Finance course is structured to deliver a strong foundation in the principles and practice of finance. The objective is to help individuals enhance their effectiveness in finance. The MSc Finance course is designed to combine rigorous academic work with real-world relevance and practical application to ensure that content is intellectually demanding while being related to the practical world of finance.
JBIMS select candidates based on Maharashtra MBA-CET entrance score or CAT score and GD/PI score.
For NRI students, GMAT score will be accepted.
MBA part-time 
 

JBIMS offers part-time courses in MHRDM (Master in Human Resource Development and Management), MMM (Master in Marketing Management), MFM (Master in Finance Management), MIM (Master in information Management).
Doctoral programme 
 

The doctoral programme has facilitated substantial research and has produced several successful Ph.D. recipients. They have contributed extensively to a number of contemporary and relevant areas.
---
placements.
Placement in JBIMS – 2016-2017 Students
---
Campus 
JBIMS enjoys an advantage of being in the heart of Mumbai, the commercial capital of India. Being in South Mumbai, where many the financial companies' headquarters are, it attracts senior management from the corporate world as guest faculty.
Mumbai University has allotted 1.77 acres land at its Kalina Centre for the new campus of Jamnalal Bajaj institute. The trianglular shaped campus will come up near the Vakola entrance gate on Hans Bhugra Marg and will be a short distance from BKC, Mumbai's new finance hub.
The campus will house the administration block and academic block whereas student accommodation, sports facilities and other campus infrastructure will be shared with the existing facilities at Mumbai university-Kalina Centre.
The cost of construction of the new campus is estimated at Rs.150 crores of which the alumni of JBIMS have already raised 85 crores and is expected to be ready by A.Y. 2017-18.
---
---
---
---
---
Top Searched Links By College4u.in