Founded in Year –
2003-04
---
DCI STATUS : Recognised by The Dental Council Of India
---
Address: 760/6/31, PMT Campus, Loni, Ahmednagar, Maharashtra 414001, 
 India
---
Name of Dental College
Rural Dental College, Loni,Maharastra

In order to bridge the gap between the ever increasing demands of Dental personnel in rural areas and wide spread oral diseases and dental problems, the PMT established Rural Dental College and Hospital in 1989, with an intake of 100 B.D.S. students per year. The college has all the specialised dental preclinical and clinical departments as stipulated by Dental Council of India (DCI).
Adequate Dental Laboratory facilities are provided for training of undergraduates & postgraduate and also for undertaking research. College also provides extension OPD services to nearby villages, which are also attended by the students and interns under supervision of senior staff.
---
Affiliated University
Maharashtra University of Health Sciences, Nashik
---
Management
Trust
---
BDS Seats
100
Duration: 4 year academic course followed by 1 year of internship.
---
Eligibility BdS : NEET 
Citizenship: Indian nationals.
Date of Birth: Only those whose date of birth falls on or before 31.12.98 are eligible.
Age Limit : 17 years
Qualification: NEET+12th or (10+2) with Physics, Chemistry, Biology & English. Minimum 50% Marks
---
PG MDS Seats
23
Duration : 3 years
---
List of Documents 
DCI Registration Certificate and entrance exam
Leaving certificate of the previous school/college
Residence proof
Age proof
Medical fitness certificate
---
Eligibility  MDS : NEET 
i) Candidate should have obtained BDS Degree from a DCI recognized institution.
ii) BDS with 1 year compulsory internship completed by May 2017
---
PG Specializations MDS Sanctioned Intake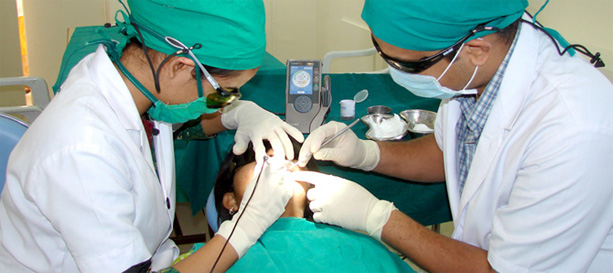 S. No.

MDS Sanctioned Intake

Seats

1

M.D.S.  Periodontics

3

2

M.D.S. Oral & Maxillofacial Surgery

3

3

M.D.S. Orthodontics

4

4

M.D.S. Conservative Dentistry

3

5

6

M.D.S.  Prosthodontics

M.D.S. Oral Medicine

3

2

7

8

M.D.S. Oral Pathology

M.D.S. Pedodontics

3

2
 Survey on oral hygiene protocols