Top B.Sc. Medical Laboratory Technology | MLT Colleges in Bangalore
Contact For Direct Admission 7019582681 | 7707055155
B.Sc. in Medical Laboratory Technology
The doctors are the undisputed stars of the show when it comes to the massive healthcare sector, but, their jobs would be thoroughly incomplete without the support of various allied health departments. Medical Lab Technology is one of those divisions that directly affect the work of doctors and as such, is an indispensable unit of the medical services industry that is often underappreciated.
So what is Medical Laboratory Technology?
Let's give you a real-life example that you may have surely experienced, that will help you understand the line of work. One of the first things the doctor tells you to do when you fall seriously ill is to undergo a host of prescribed tests. Similarly, a diseased patient is often subjected to various tests to determine the illness and the potential causes. This is where Medical Lab technicians step in.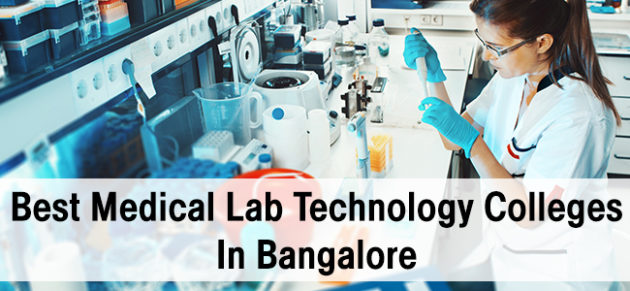 Medical Lab Technicians are responsible for helping in the diagnosis, prevention and methods of treatment of a disease based on the tests carried out in clinical laboratories. A Medical Lab Technician helps the doctor comprehend a patient's condition better by conducting and overseeing relevant tests and documenting them for further analysis.
Ranked By College4u.in
R R Institute of Medical Sciences | Bangalore
Eligibility Criteria
A candidate must have cleared 10+2 or any equivalent examination from a recognized board or university from the science stream with compulsory subjects Physics, Chemistry and Biology (Biochemistry and Mathematics).
Candidates who have completed a Diploma in Medical Lab Technology are also eligible to join.
The minimum cut-off is 50%, which differs depending on the institute or college.
Clearing an entrance exam is mandatory in order to get into the most reputed institutes.
B.Sc. in Medical Laboratory Technology Duration
B.Sc. in Medical Laboratory Technology is a 3-year undergraduate course which is divided into 6 semesters, with each year comprising of 2 semesters. A semester normally contains a minimum of 5 subjects or more.

Bachelor of Medical Laboratory Technology (B.M.L.T.) (3 years)

Sc. in Medical Imaging Technology (3 years)

Diploma in Medical Laboratory Technology (2 years)

Diploma in Medical Record Technology (2 years)

Diploma in Medical Imaging Technology (2 years)

Diploma in X-Ray and ECG Technology (2 years)
---
---
Course Structure 
A B.Sc. in Medical Laboratory Technology student will be first taught the fundamentals of Physiology, Anatomy, Microbiology, Biochemistry and Pathology, which are essential to becoming a technically proficient Medical Lab Technician.

The student will be familiarized with all the lab equipment and the chemicals that are used the most in top laboratory setups to help detect, diagnose and treat various ailments.

MLT is a vast field and so are the types of tests that are undertaken some of which include the highly common, blood and urine tests. A comprehensive study on the operation and maintenance of all the equipment such as test tubes, beakers, flasks to complex machines such centrifuges, X-Ray machines, drug testing analyzers etc. form the crux of the course.

Generating and storing reports of the tests in a neat and competent manner is one of the core duties of a Medical Lab Technician which will also be looked into detail as part of the course.
---
---
---
Top Searched Links By College4u.in
Direct Admission
Contact | 7411718005 | 9620557598
Condition Apply : All College Admission Process Might Be Different.