Direct Admission 2023-24 Batch In Cardiac Perfusion Technology | CPT
---
---
What is B.Sc perfusion technology?
Cardiac Perfusion Technology (CPT) is an Undergraduate Program offered Cardiovascular perfusion is the science of providing extra corporeal circulation in order to artificially support and temporarily replace a patient's respiratory and circulatory systems.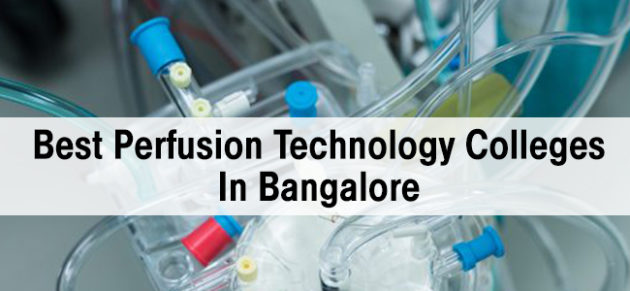 Duration

|

3 Years 

Eligibility

| B.Sc. in Perfusion Technology. 10+2 education completed in the Science stream from a recognized educational Board. Physics, Chemistry, English and Biology as the main subjects of study at the 10+2 level. A minimum aggregate score of 50% (45% for SC/ST/OBC candidates) at the 10+2 level.
Contact Us @ 7411718005 | 9620557598
---
---
---
Perfusion Technology Colleges in Bangalore Ranked By College4u.in
Latest Ranking Of Colleges For 2023-24 Batch
---
---
---
General Query Asked By Students
What is perfusion technology salary?
The base salary for Cardio-Pulmonary Perfusionist ranges from $115,228 to $140,180 with the average base salary of $128,386. The total compensation, which includes bonus, health and retirement, can vary anywhere from $115,487 to $140,497 with the average total compensation of $128,469.
What does a Perfusionist do?
A Perfusionist, also known as a clinical Perfusionist, Cardiopulmonary bypass Doctor, Perfusiologist, clinical perfusion Scientist, or cardiovascular Perfusionist, is a healthcare professional who uses the cardiopulmonary bypass machine (heart–lung machine) during cardiac surgery and other surgeries that require …
How much does a cardiovascular perfusionist make an hour?
The average hourly rate for Cardio-Pulmonary Perfusionist ranges from $56 to $68with the average hourly pay of $62. The total hourly compensation, which includes bonus, health and retirement, can vary anywhere from $56 to $68 with the average total hourly compensation of $62.
What education is required for a Perfusionist?
A bachelor's degree in a medical or science field (such as chemistry, biology, medical technology, etc.) Completion of a perfusionist certificate or master's degree, which includes clinical training. Strong anatomical knowledge. Familiarity with surgical technology.
Is Perfusionist a doctor?
Cardiac Perfusionists are not doctors or nurses. Cardiac perfusion is an allied health career. A cardiac perfusionist, also known as a Certified Clinical Perfusionist (CCP), is a specialized medical professional who operates what you may know as the "heart-lung" machine.
---
---
College Usually In Campus Facilities
  Boys Hostel               
  Wifi 
  Sports
  Girls Hostel               
  

Banks / ATM

  Guest Room             
  Cafeteria
  Medical/Hospital     
 Gym
 Auditorium               
 Transport
Laboratories               
 Library 

 IT Infrastructure
---
---
---
---
---
Direct Admission Contact Us For Further Query
Contact | 9036036290 | 9620557598
Condition Apply : All College Admission Process Might Be Different.Admission Possible Only in Private Colleges.