DCI Status |  Recognised by The Dental Council Of India
Address |  Digdoh Hills, Hingna Road, Nagpur, Maharashtra 440019, 
 India
Maharashtra University of Health Sciences, Nashik
Trust
Seats | 100
Duration

|

4 year academic course followed by 1 year of internship.
---
Name of Dental College
VSPM's Dental College & Research Centre, Nagpur,Maharastra

Established in 1996 this institute is home to 100 undergraduates and postgraduates from all over the country every year. Credited with a brilliant faculty, state of the art facilities, and an excellent research environment this institute offers a wholesome learning experience to the student. It takes pride in shaping the career of future dentists of the country, and also providing excellent patient care.Take a virtual tour of one of the premiere institutes of central India. Learn about the faculty and work progress by visiting the departments.
---
Eligibility | BdS | NEET 
Citizenship

:

Indian nationals.
Date of Birth

:

 Only those whose date of birth falls on or before 31st December of the Admission Year are eligible.
Age Limit
: 17 Years and Above
Qualification

:

NEET+12th or (10+2) with Physics, Chemistry, Biology & English. Minimum 50% Marks
---
Eligibility  MDS : NEET 
i) Candidate should have obtained BDS Degree from a DCI recognized institution.
ii) BDS with 1 year compulsory internship completed by May 2017
List of Documents 
DCI Registration Certificate and entrance exam
Leaving certificate of the previous school/college
Residence proof
Age proof
Medical fitness certificate
---
PG Specializations MDS Sanctioned Intake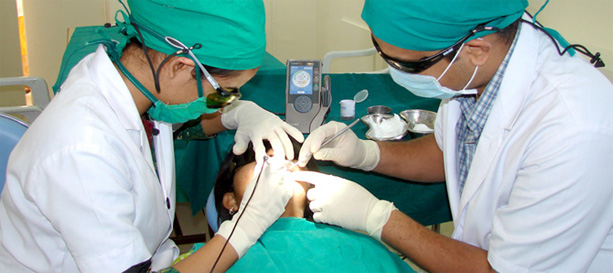 S. No.

MDS Sanctioned Intake

Seats

1

M.D.S.  Periodontics

4

2

M.D.S. Oral & Maxillofacial Surgery

3

3

M.D.S. Orthodontics

3

4

M.D.S. Conservative Dentistry

4

5

6

M.D.S.  ProsthodonticsM.D.S. Oral Medicine

4

5

7

8

M.D.S. Oral PathologyM.D.S. Pedodontics

3

3