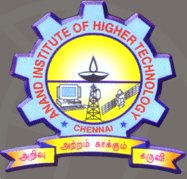 Address

|  

IT Corridor, Old Mahablipuram Road, Kalasalingam Nagar, Kazhipattur, Kazhipathur, Tamil Nadu 603103

.

Accrediated by NAAC with 'A' Grade 
 ISO 9001:2008 Certified

Affiliated University

| Anna University |

Kazhipathur

Year of Establishment

 | 

2000

 |

Kazhipathur

| Tamilnadu |  India

Management

|

Trust

 

College Type

|

Private

Approved By | AICTE | NAAC | NBA
---
---
---
Placement 2017 – 18
Heighest Salary Offered | 8 Lakh

Average Salary Offered | 3.3 Lakh
Introduction
Anand Institute of Higher Technology (ஆனந்த் இன்ஸ்டிடூட் ஆப் ஹையர் டெக்னாலஜி ) is a College of Engineering that is located in Kelambakkam, Chennai, Tamil Nadu, India. Anand Institute Of Higher Technology was founded by T.Kalasalingam. It is a sister institution of Kalasalingam University, Krishnankovil. The Institute is named after the wife of T. Kalasalingam, Mrs. K. Anandham Ammal. There are six departments, providing the courses of Bachelor of Engineering and in 2012-2013, Anand School of Architecture was found. Hostel facilities are given separately for boys and girls. The transport facility must be availed which would be provided with the available 40 buses, reaching almost all the areas of Chennai.
The college has a Main Auditorium with a capacity of 1500 people and a mini auditorium, with 150 seats. Both Auditoriums are air – conditioned.
---
---
UNDER GRADUATE PROGRAMMES B.E/B.Tech 
B.E. (Computer Science and Engineering)

B.Tech. (Information Technology)

B.E. (Electronics and Communication Engineering)

B.E. (Electronics and Instrumentation Engineering)

B.E. (Mechanical Engineering)

B.E. (Electrical and Electronic Engineering)

B.E. (Civil Engineering)
---
---
---
POST GRADUATE PROGRAMMES
M.B.A. (Master of Business Administration)

M.E. ( Communication Systems)

M.E. ( Computer Science )

M.E. ( Power Electronics and Drives)

M.E. (Computer Integrated Manufacturing)

M.E. ( VLSI Design)

M.E-(Embedded System Technologies)
---
---
Admission Procedure
Eligibility General :
Candidates satisfying the following eligibility rules as on last date of submission of application are eligible to apply. Passing the qualifying examination or changing the religion etc. after this date shall not be considered.
Nativity
Candidates belonging to Tamil Nadu only will be considered for admission. However, the following categories of candidates are also eligible to apply as Tamil Nadu candidate subject to certain conditions given below :
Candidates belonging to Tamil Nadu
Tamil Nadu Native candidates who have studied VIII, IX, X, XI & XII Std. including Diploma in Tamil Nadu, need not enclose the "Nativity Certificate".
Candidates who have passed any of the VIII, IX, X, XI & XII Std. or their equivalent Examination from schools situated outside Tamil Nadu, should enclose a copy of the "Nativity Certificate" (vide certificate No. I) with the application for considering them as candidates belonging to Tamil Nadu.
Applications without proper Nativity Certificate for item 3.1 (A) (ii) will not be considered.
---
---
---
---
Placement 2017 – 18
Total Placement | 470

Heighest Salary Offered | 8 Lakh

Average Salary Offered | 3.3 Lakh
---
---
---
Top Searched Links By College4u.in