Address

| Plot No. 5, Knowledge Park II,Greater Noida (NCR), Uttar Pradesh – 201 306

Year of Establishment

|

 

1988

Entrance test scores

| CAT/XAT/GMAT/CMAT/MAT

Rankings | 

It was ranked No. 16 by the Business Today 50 best business schools of 2011 .
No. 17 by the 2012 edition of CNBC-TV18's Top B-Schools in India
Approved By : AICTE | NAAC | MHRD Govt. of India | IRDA
---
---
---
Introduction
Birla Institute of Management Technology is graduate business school located in Greater Noida, an education hub in the National Capital Region of India. It was established in the year 1988.BIMTECH is located in Greater Noida in the nation's capital region. BIMTECH campus includes a playground, theatre, labs, health centre, computer centre and an auditorium
---
Admissions Process & Elligibility
S. No.

Can Apply to Programmes

Eligibility

1

PGDM

PGDM(IB)

PGDM(IBM)

PGDM(RM)

Valid CAT-2016

Merit Category

2

PGDM

PGDM(IB)

PGDM(IBM)

PGDM(RM)

Valid GMAT 2016-17

• Merit Category
• International Category

 

3

PGDM

PGDM(IB)

PGDM(IBM)

PGDM(RM)

Valid XAT- 2017

Merit Category

4

PGDM(IBM)

PGDM(RM)

Valid MAT 2016-17
Sep 2016/Dec 2016/Feb 2017

Merit Category

5

PGDM(IBM)

PGDM(RM)

Valid CMAT 2016-17 Feb 2017

Merit Category
---
Programs offered In BIMTECH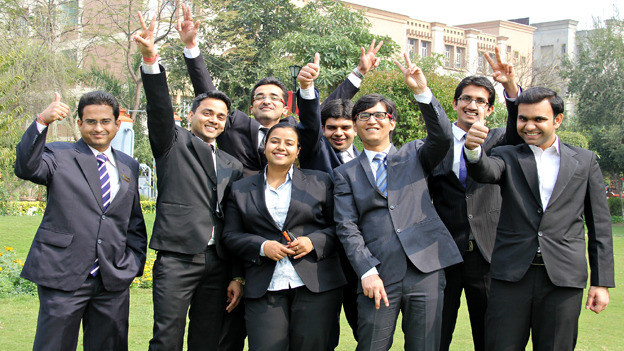 Post Graduate Diploma in Management (PGDM)

Post Graduate Diploma in Management (International Business) (PGDM-IB)

Post Graduate Diploma in Management (Retail) (PGDM-RM)

Post Graduate Diploma in Management (Insurance Business Management) (PGDM-IBM)

PhD/Fellow Programme in Management (FPM)
---
Post graduate diploma in Management | PGDM
During the six trimesters, besides three core courses, students are required to submit winter dissertation under the supervision of a mentor. During the two-year programme, 1250 hours of class room teaching is provided along with extra and co-curriculum activities that are parts of the programme.
The students enrolled in the programme are part of the student bodies drawn from all other programmes of the institute. The student conduit has members from seven committees i.e. Discipline Committee, Mess Committee, Newsletter Committee, Media Committee, Cultural Committee and Sports Committee and Alumni Association. These conduits not only apprise students of latest developments in their respective fields but also engage them in organizing various activities.
Post Graduate Diploma in International Business | PGDM-IB
The PGDM-IB is a two-year, AICTE-approved, full-time program focused on international and global business relationships as well as the import/export business. The number of applicants admitted to this program is limited to 60 currently. The PGDM-IB is spread over six terms offering three areas of specialization: Marketing, Finance and Operations. A part of the course curriculum includes a mandatory port visits India or abroad for the practical knowledge of Imports exports and a summer internship which has to be completed in two months.
Post Graduate Diploma in Insurance Business Management | PGDM-IBM
This course was launched in 2000 by the Centre for Insurance and Risk Management (CIRM). With dual specialization in Life and Non-life insurance.after the year 2010 100 placement record of this course. The first of its kind in the country to offer full-time education in Insurance and Risk Management, the centre offers masters programme to prepare young professionals for the industry. This two-year, Full-time, programme has been approved by AICTE, MHRD, Government of India. To develop competence in management of risk through fundamentals of Insurance with specialization in management of insurance company, underwriting & risk management.
Post Graduate Diploma in Retail Management | PGDM-RM
The Retail Management Programme Is an AICTE-approved two-year full-time education focused on retailing and merchandising management. The PGDM (RM) program is the pioneer two-year full-time program in Retail Management approved by AICTE..
PhD/Fellow Programme in Management | FPM
Centre for Research Studies conducts doctoral and post-doctoral programmes. PHD programme is offered in collaboration with University of Mysore, Mysore (Karnataka); Mohanlal Sukhadia University, Rajasthan and University of Assam, Silchar. FPM is a popular autonomous doctoral programme approved by AICTE.
---
Admission Process | BIMTECH offers admissions to its two year full time PGDM program and other sectoral programs namely, PGDM (International Business), PGDM (Retail Management) & PGDM (Insurance Business Management) and Two Doctoral Level Programmes.
Eligibility & Selection Process
Appearing in Final Year Graduation Examination (1st attempt) in Summer 2018.
Has a 'pass' result of Graduation i.e. no uncleared paper(s).
Declaration of Final Selection List
Profile based score
Entrance test scores (CAT/XAT/GMAT/CMAT/MAT)
Performance in Personal Interview and Write-up based on their respective weightages
Fee Submission | The selected candidates are to deposit the first installment of tuition fee within the given time frame in the offer letter to ensure their admission, failing which the offer is passed on to the wait listed candidates. The fee for boarding & lodging is to be given separately at a later date.
PGDM | fees 2018
| | |
| --- | --- |
| Merit | 2,75,000 INR |
| Corporate Sponsored | 8,50,000 INR |
| NRI Sponsored | 8,50,000 INR |
| NRI | 8,50,000 INR |
| | |
| --- | --- |
| Merit | 2,75,000 INR |
| Corporate Sponsored | 8,50,000 INR |
| NRI Sponsored | 8,50,000 INR |
| NRI | 8,50,000 INR |
| International Students | 3,00,000 INR |
PGDM IBM
| | |
| --- | --- |
| Merit | 2,12,500 INR |
| Corporate Sponsored | 7,50,000 INR |
| NRI Sponsored | 7,50,000 INR |
| NRI | 7,50,000 INR |
| International Students | 2,25,000 INR |
PGDM RM
| | |
| --- | --- |
| Merit | 2,12,500 INR |
| Corporate Sponsored | 7,50,000 INR |
| NRI Sponsored | 7,50,000 INR |
| NRI | 7,50,000 INR |
| International Students | 2,25,000 INR |
---
---
---
Top MBA Colleges Searched Links By College4u.in