Address

| 

Enathur, Karrapettai Post, Kanchipuram, Tamil Nadu 631552

Year of Establishment | 

2003 | Enathur | Tamilnadu

Course Offered

|

MBBS | PG Diploma | MD | MS | DM | M.CH

Affiliated University

| Meenakshi University (Deemed), Chennai

Management

| Trust
MCI status | 

Recognized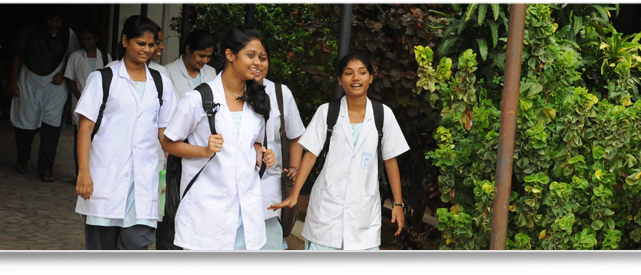 The Meenakshi Medical College and Research Institute established at Enathur is located very near to the Temple Town of Kanchipuram. The College has been located close to the Chennai – Bangalore National Highway (NH 4) and is well connected by public and private transport systems. The Medical College and Hospital is constructed on a total area of 39.08 acres. The total plinth area of the Medical College and Hospital is around 6 lakhs sq ft.
---
Bachelor of Medicine &  Bachelor of Surgery | MBBS 
MBBS Intake 

Seats

| 150

Duration

 | 4 years plus 1 year compulsory rotatory internship.
Eligibility |

 

MBBS| NEET 

Citizenship

: Indian nationals.

Date of Birth

: Only those whose date of birth falls on or before 31 December of year are eligible.

Qualification

: Pass in 10+2, A level, IB, American 12th grade or equivalent with Physics, Chemistry, Biology/Biotechnology and English individually with a minimum of 50% marks in Physics, Chemistry and Biology/Biotechnology taken together

Age limit

: Candidates should have completed 17 years of age as on December 31st of the year of admission. Age shall be determined based only on the date of birth as given in SSLC / HSC or an equivalent examination certificate.
---
---
Post Graduate MD | MS | PG Diploma  Intake
Seats | 54

Duration

: Diploma 2 yrs & MD/MS  3 years
Eligibility  | PG MD/MS | NEET 
i) Candidate should have obtained MBBS Degree from a MCI recognized institution.
ii) Candidate should have completed one year compulsory rotating internship after passing the final professional examination before 30th April of the Academic year.
Seat Matrix 
PG Specialization of 22 different courses for 54 seats is available in Meenakshi Medical College & Research Institute Chennai. Admissions are based on the competitive entrance examination conducted autonomously by Meenakshi Medical College & Research Institute Enathur.
DM – Cardiology 1
DM – Gastroenterology 1
M.Ch – Urology / Genito-Urinary Surgery 1
MD – Anaesthesiology 4
MD – Bio-Chemistry 2
MD – Dermatology, Venereology & Leprosy 3
MD – General Medicine 6
MD – Microbiology 2
MD – Paediatrics 3
MD – Pathology 3
MD – Pharmacology 1
MD – Physiology 2
MD – Psychiatry 2
MD – Radio Diagnosis / Radiology 2
MD – Social & Preventive Medicine / Community Medicine 4
MD – Tuberculosis & Respiratory Diseases / Pulmonary Medicine 2
MD/MS – Anatomy 2
MD/MS – Obstetrics & Gynaecology 3
MD/MS – Ophthalmology 1
MS – ENT 2
MS – General Surgery 5
MS – Orthopaedics 2
---
Meenakshi Medical College & Research Institute 
Meenakshi Medical College & Research Institute. MBBS 150 Seats. PG 54 Seats. The medical college is having a deemed status as per the UGC Act 1956. A full-fledged medical institution in Enathur, in the temple town of Kanchipuram,Tamil Nadu.The affiliated university is Meenakshi University. The medical institution conducts an all India Entrance test to select students into UG / PG courses.
Origin of College – The birth of the college took place due to philanthropist Mrs Meenakshi Ammal, who helped set up the medical college and hospital through her public charitable and education trust in the year 1983 at Enathur in the temple town of Kanchipuram, Tamil Nadu.

MBBS, MD, MS, DM & MCh Courses

– The UG course is MBBS. The PG courses are in MD, MS, DM and MCh.  All of these UG / PG Courses are recognized by Medical Council of India.

Admission in MBBS Course

– For getting admission into MBBS course in Meenakshi Medical College & Research Institute, Enathur (MMCRI) the students have to qualify Common Entrance Test conducted by Meenakshi University.  The selection of the students is done based on the ranks obtained in the all India Entrance Examination.
Admission

| Application for admission to a course should be made in the prescribed application form which is available along with the prospectus.A separate application form should be used for each course applied.Incomplete application forms will not be accepted. All the details furnished by the candidates in the application form should be accurate and correct.
Admission Procedure

|  Candidates seeking admission to the I year MBBS degree course shall satisfy the following requirements.A pass in HSC Examination (Academic of the 10 +2 curriculum of the Government of Tamilnadu with the subject.
---
---
Top Searched Links By College4u.in